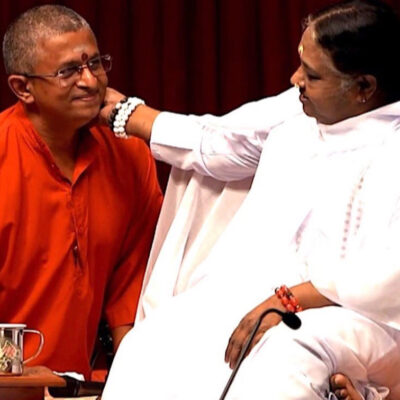 We are happy to announce that Swami Atmananda Puri will tour Australia November 2022 – May 2023.
Swami Atmananda Puri
Swami Atmananda Puri is a monastic disciple of Mata Amritanandamayi. He first met Amma in 1989 and has been living at Amma's ashram in Kerala, India since 1993. He has been conducting meditation retreats and spiritual discourses in Singapore, Malaysia, Europe, Mauritius, Australia and New Zealand, to guide individuals toward finding greater peace in their everyday lives. He is also a Global Teacher of the IAM® Technique.
SYDNEY FEBRUARY 18
---
SHIVA SHAKTI AND NAVAGRAHA PUJA
Swami Atmananda Puri will be conducting a puja in Sydney on the auspicious
occasion of Siva Ratri (traditional day and night dedicated to worship of Siva).
Date: Saturday 18th February
Time: From 7pm
Venue: 7 Neville Street, North Willoughby, Enter via Chaleyer Street.
If you would like to participate, please read the options below.
Option 1: Come along to view the puja as an observer, free of charge.
Option 2: Shiva-Shakti Puja – to register for this puja please complete the
following form by Friday 17th February:
https://ammaapps.org.au/Apps/ammapujas/pujas.aspx
Option 3: Navagraha Puja – the word 'Navagraha' translates as planets. The
nine planets are represented in the Puja with 9 small lamps and you can
register for individual planets or for all 9.If you would like Swamiji to help advice which planets would be most
beneficial, please complete the following form ASAP – before 17th February:
https://forms.gle/cSkg8rHvfY3gM9BL9. An email will then be sent to you and
you can then register for the Puja based on his recommendations.

Alternatively, if you know which planets to register for, or would like to register
for all 9, you can register directly here:
https://ammaapps.org.au/Apps/ammapujas/pujas.aspx
Registrations close Friday 17th February.
For more information contact: [email protected]
BYRON BAY MARCH 13-19, 2023
---
ADVAITA SILENT MEDITATION RETREAT
Swami Atmananda Puri will be conducting a 3 Day Advaita Silent Meditation Retreat (Residential) at the Sacred Hearth Sanctuary in the Byron Bay hinterland from the 16th – 19th March 2023.
This retreat is designed to reinforce existing spiritual practices while providing the foundation for a lifetime of meditation practice.
The focus is to go deeper into the traditional Advaita Vedanta (non-dualism) meditation teachings & techniques, using Amma's teachings and meditation techniques as a guide.
Benefits can include clarity and strength of mind to achieve your goals, staying centred in an ever-changing world and overcoming stress and tension. We will alternate between guided meditation, silent sitting sessions, silent walking sessions, talks on Advaita and contemplation sessions.
This retreat is suitable for all levels of experience in meditation from beginner to advanced.
Date: Thursday 16th – Sunday 19th March
Time: Thursday 5.30pm until Sunday 2pm
Venue: Sacred Hearth Sanctuary, Main Arm, Byron Bay Hinterland.
Registration is required. Limited spaces available. Book early to avoid disappointment.
For more information and to register: https://forms.gle/5pTGirNdxdAe4HSA8
Contact: [email protected]
A SERIES OF SCRIPTURAL CLASSES LED BY SWAMI ATMANANDA PURI
Uncover your Inner Potential – The Secret Spiritual Symbolism in the Sacred Bhagavatam Scripture.
Date: 13th, 14th and 15th March
Time: Arrive by 5.45pm to start at 6.00pm – 7.30pm
Venue: 30 Mcleish Rd, Tintenbar. 2478. (Take Lennox head exit off H'way into Ross Lane, Mcleish is 1st on right)
Cost: By Donation (Donations to support Vision 2023 Fundraising are welcome)
Note: A light meal will be served after the session.
Please register online by Sunday 12 March, 12 noon so we can organise sufficient
food for everyone.
Register: https://forms.gle/MUNjEQRBB2QwEvmp6
Contact: [email protected]