Silent Meditation Retreat
THURSDAY JULY 18 – THURSDAY JULY 25

Connecting with sacred and ancient wisdom within ourselves can help to bring a deeper meaning to life, and more peace of mind.
The Silent Meditation Retreat on the Sunshine Coast, conducted by Br. Shraddhamrita Chaitanya is designed to reinforce existing spiritual practices while providing the foundation for a lifetime of meditation practice.
The focus of this retreat is to go deeper into the traditional Advaita Vedanta (non-dualism) meditation teachings & techniques, using Amma's teachings and meditation techniques as a guide.
Benefits can include clarity and strength of mind to achieve your goals, staying centred in an ever-changing world and overcoming stress and tension.
This retreat is suitable for all levels of experience in meditation from beginner to advanced. We will alternate between guided meditation, silent sitting and silent walking sessions.
All aspects of meditation from yogic concentration meditation to Advaita non-dual knowledge meditation will be explored in depth. Amma's unique IAM35 meditation technique, which incorporates a combination of yoga, pranayama and meditative visualisation, will also be taught.
We have managed to keep costs low to make it accessible for as many people as possible. There are various on-site accommodation options which are likely to fill up fast so please book as soon as you can to avoid disappointment.
When: Evening of Thursday July 18 – Afternoon of Thursday July 25
Note: If you are unable to attend all 7 days there will be an opportunity to attend the first weekend. If you are interested please email me. We are only taking registrations for the 7 day retreat at this stage.
Where: Chenrezig Institute Wellbeing Centre – 33 Johnsons Rd, Eudlo, Sunshine Coast
Cost: $400 or $380 concession (Full time student card or Health care card must be provided)
The retreat fee includes all meals and classes. Accommodation fees are charged separately based on a range of options from $27 per night.
Accommodation: 7 nights, Thursday July 18 – Wednesday July 24 (check out Thursday morning, July 25).
Accommodation is limited, please book with Akshara directly ASAP to avoid disappointment. Once a room is allocated it must be paid for via the Amma Australia website to secure the booking.
Accommodation options:
Koala Dorm (Female) – $27 per night
Lotus House (Single room) – $52 per night
Lotus House (Twin room)  –  $40 per night, per person
Sangha House (Single room) – $60 per night
Sangha House (Twin room) – $50 per night, per person
Wellbeing Centre (Single room) – $60 per night
Retreat Hut  – $70 per night, another bed can be added for $30 per night
How to book: Please send an email to Akshara at sunshinecoast@ammaaustralia.org.au with the following information.
First Name:
Last Name:
Phone Number:
Accommodation preference:
Dietary restrictions:
We will then confirm your accommodation is available and the total payable. You will receive an email with instruction re: how to confirm your booking.
You may elect to stay off site but it is preferable to stay at Chenrezig. This retreat is not suitable for children.
---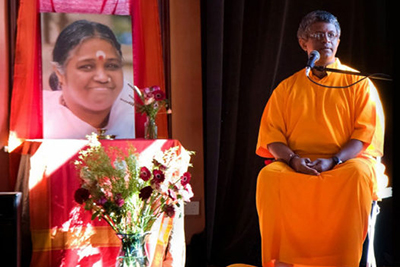 Satsang with Br Shraddhamrita Chaitanya
Friday July 26
Spiritual discourse, devotional singing, meditation
Where: Venue to be confirmed
Time: 6.30pm start
Contact: sunshinecoast@ammaaustralia.org.au