Our Vision 2023 initiative comprises a broad mission of improving current infrastructure at Amma's Ashram in Melbourne to better support Amma's charitable and spiritual activities, and any future visits of Amma to Australia.
This major redevelopment presents a very exciting and unique opportunity, not just for Amma's organisation in Australia but also for the general public. In addition to serving as a site for Amma's Melbourne programs and retreats, we hope the expansion will be of direct benefit to local communities and a hub for spiritual activities and volunteering opportunities for people from all over Australia.
Over the last ten years, the redevelopment program at Amma's Melbourne Ashram has progressed to include the building of a meditation and program hall, residential cabins and expanded car parking. We have been able to host various local, interstate and overseas visitors and conduct a wide range of spiritual programs in the tranquil surroundings of the Ashram.
In May 2021 the Frankston City Council approved a planning application to allow for a new major expansion of the Ashram. Detailed working drawings were then developed and subsequently approved by Council in October 2022. Construction works are now underway and completion of Stage One is expected in late 2023.
Stage One
Significantly extend the existing program hall;
Build a commercial kitchen and dining hall;
Develop internal and external access roads, car parking and landscaping;
Provide connection to external water and sewer
We had hoped to acquire an additional 10 acre parcel of land to better facilitate large events on site. Unfortunately, we incurred substantial delays in the approval process and our neighbour sold his farm in this difficult circumstance. We remain hopeful, however, that we will be able to acquire additional land when the new owner assumes ownership in 2024.
The budget for Stage One building works is estimated at $3.5M
An experienced volunteer project team has been managing the redevelopment. Stage One construction works commenced in December 2022 are now underway and completion is expected in late 2023.
We had hoped to be able to host a possible Amma tour onsite in 2023, however the site will not be available for this purpose until early 2024, in the event that Amma is able to resume her Australian tour program.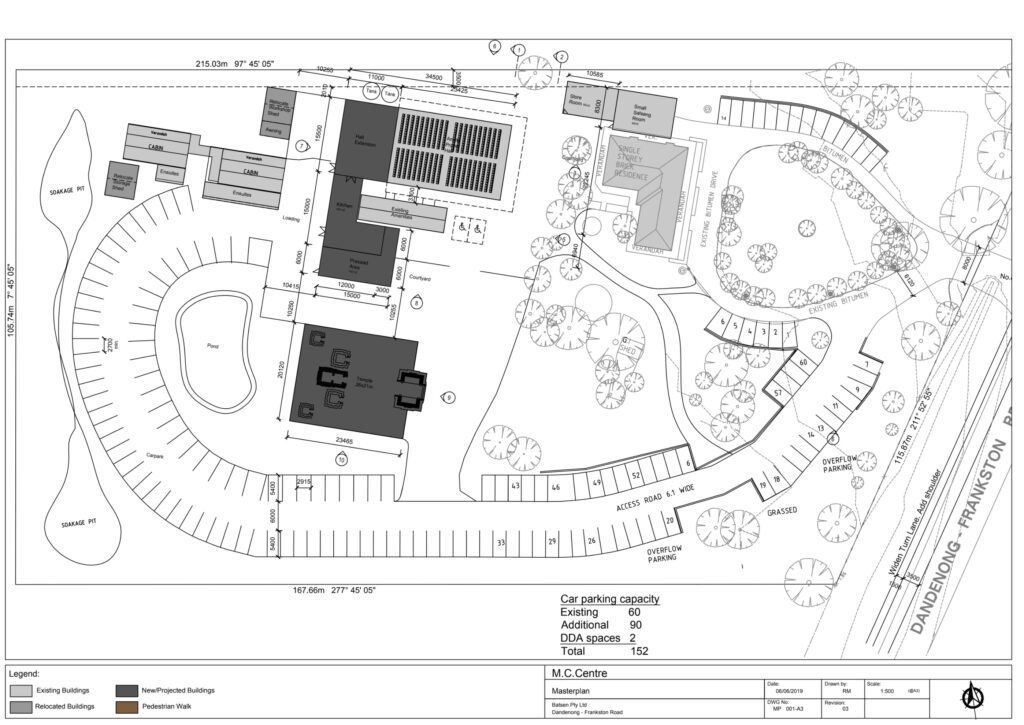 Stage Two
Amma has approved the construction of a temple to be built on the Ashram grounds.
Following completion of Stage One we will begin temple construction.
Outside of India, apart from a Brahmasthanam Temple built in Mauritius this will be the first traditional Hindu Temple built on Amma's land anywhere in the world.
The main deities of the temple are expected to be Siva and Parvathy with other deities including Aiswarya, Lakshmi, Murugan, Ayyappa, and Ganesh.
The estimated budget for Stage Two is $1.7M with an overall project budget estimate of $5.2M (inclusive of Stage One and Stage Two, but excluding allowance for the possibility of acquiring additional land).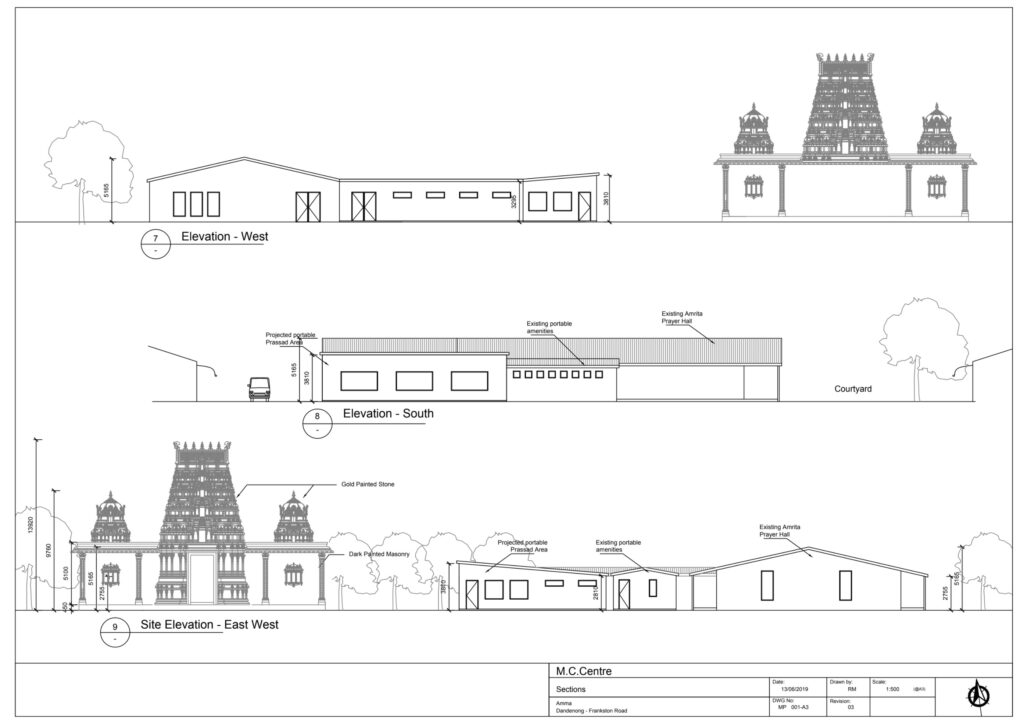 These developments have been designed with sustainability in mind. We aim to minimise impacts on the environment and local community, with focus on energy and water efficient practices as well as using recycled building material and natural products where possible. Indigenous and native fauna will also be planted to improve biodiversity in and around the land.
Once construction is complete, a new permit of use will allow greater numbers of people to attend the Ashram and extended hours of use.  Most significantly this will enable Amma to hold programs and retreats on site.  It will also accommodate extended programs and retreats by Amma's monastics when they visit Australia.
In the longer-term, the temple, hall and other facilities will open to the broader public to support the growth of our community. In turn, this will increase our capacity to conduct charitable works, spiritual activities and education programs.
How you can help
There are a number of ways by which you can support Vision 2023:
Pledge a monthly recurring donation
Online: Select Vision 2023 and Monthly from the dropdown menus     Donate Here
Direct Debit: Please send an email to [email protected] requesting banking details and requirements.
Make a single one-off donation
Online: Select Vision 2023 from the dropdown menu  Donate Here
Direct Debit or Cheque: Please send an email to [email protected] requesting banking details and requirements.
Contribute through Individual Sponsorship
We will post updates about needed goods and services in our Vision 2023 newsletter. To subscribe to the newsletter email [email protected]
Volunteer Time
There will be ample opportunities to volunteer during the redevelopment.  If you have particular skills and are available to spend some time at the Ashram during 2022 or you are just enthusiastic to be involved, please register your interest: [email protected]
Become involved in Fundraising Activities
If you have fundraising ideas, would like to champion an event or volunteer your services to fundraise, please contact your local coordinator.
Adelaide: [email protected]
Brisbane: [email protected]
Byron Bay: [email protected]
Hobart: [email protected]
Melbourne: [email protected]
Sunshine Coast: [email protected]
Sydney: [email protected]
Perth: [email protected]
For general enquiries: [email protected]
Amma approves new school in Melbourne
MA Centre (Aust) Foundation has established the Amrita Academy of Arts and Spirituality (AAAS) and the Amrita Academy of Arts and Spirituality Public Library.
The School promotes spiritual-based education drawing from Amma's teachings on the importance of spiritual knowledge, culture and values premised on compassion and the interconnectedness and wholeness of life.
The development of Amma's Ashram at Carrum Downs will now include building additional infrastructure to support the School's activities and a library.
All financial donations towards building the School and Public library can be made to the following funds.
The Amrita Academy of Arts and Spirituality Building Fund.
Amrita Academy of Arts and Spirituality Public Library Fund.
Both the above mentioned funds are endorsed with tax deductible gift recipient status and thus any proceeds over $2 are tax deductible (under section 30-100 (item 12.1.2 of the Income Tax Assessment Act 1997.
Donations to the funds will go towards construction of the additional infrastructure and ongoing maintenance of the school and library and library book stock replacement.
The School Building and Library funds target for Stage One is $860,000.
For more information about the Academy and the Public Library click here
We look forward to working with you to make this unique and exciting vision a reality!